A young caracal hisses aggressively in a futile attempt to scare off a big male lion! The little one is one swipe away from certain death but it has help – a scene plays out where its mom comes to the rescue, putting her body on the line to defend her kittens!
See below the full photo series of one of the best sightings of my life! 
The story begins on the crater floor at 644am.
The Ngorongoro, possibly Africa's greatest and most famous wildlife theater often plays host to incredible sightings that people get to witness on a daily basis. We were one of the first into the caldera, a huge area teaming with wildlife and had already spotted some lions. Wildebeest, flamingoes, golden jackals and hyenas were also in view as we watched a pair of secretary birds standing proud on their acacia top nest. At 6:44 though, we had seen another lion and he was some distance off!
We caught up with this big King, walking along with purpose and posing in perfect light!
The male walked right toward us on a number of occasions. We were in awe. He brushed right past our car, literally touching the vehicle with a flick of his tail. And then out of nowhere…he decided to mark his territory! Raising his tail once again, he proceeded to spray the back left hand-side of the vehicle showing us exactly who was boss in these parts! (I have pics to prove it and fortunately that window was closed!)
Time and time again, the male walked past our vehicle and we eventually left him after about 15 minutes of intense viewing and looped around to a hippo pool. Up ahead we could see yet more lions including a male and we figured he was heading that way.
But as we made a turn toward the waterhole, some Thompson's gazelles were not happy and their alarm calling gave away the presence of a caracal family, the mom which had appeared to be trying her luck at catching one of these nimble antelope! Not happy to have been spotted she took her youngsters into some thick grass and up until this point we had had only glimpses of one of the most sought after cats of any avid safari goer.
One thing was obvious though…she had lead her cubs directly into the path of the male lion we had been watching and the wind was not in her favour!
At 7:04 am things took a turn for the worse for the little family as the female realizes making a hasty getaway is not an option – she had been spotted!!
I can only imagine the fear they must have felt!
She wouldn't back down and straight away the male gave chase…
In the long grass – death seemed imminent – we were sure the male would grab her but she had made a last minute dash to safety!
Sadly though, the male had spotted the kittens and he was on a mission to find them! Their mom though, incredibly returned to the area just a few seconds after her near miss!
The big lion sniffed around and first I was relieved to see that he hadn't noticed the one cub…maybe it had a chance!
But no…he turned around quickly and it melted into the long grass!
He looked down at the easiest of targets but before he could do anything, the heroic mother seemed to be ready to sacrifice herself. The long lens shows them to be close, and she was, only a few feet away from meeting her own death! To see 2 of Africa's cats like this was quite incredible!
Her persistence was paying off. The lion takes his eyes off the youngster and focuses on their mom once again. To the bottom left you can see the kitten trying its best to do anything in this shocking situation, its life and its mom's life hanging in the balance!
With heightened aggression she swung around snarling at the big lion!
Her plan worked. She lured him away! And again she allowed him to get closer than one would think possible!!
And then they both walked straight back to where the kittens were. By this time the Thompson's gazelles were back taking great interest in the sighting – 2 of their arch enemies having a standoff!
And the male returned to the cowering little one – it was going to be all over!
And for the last time mom came to the rescue!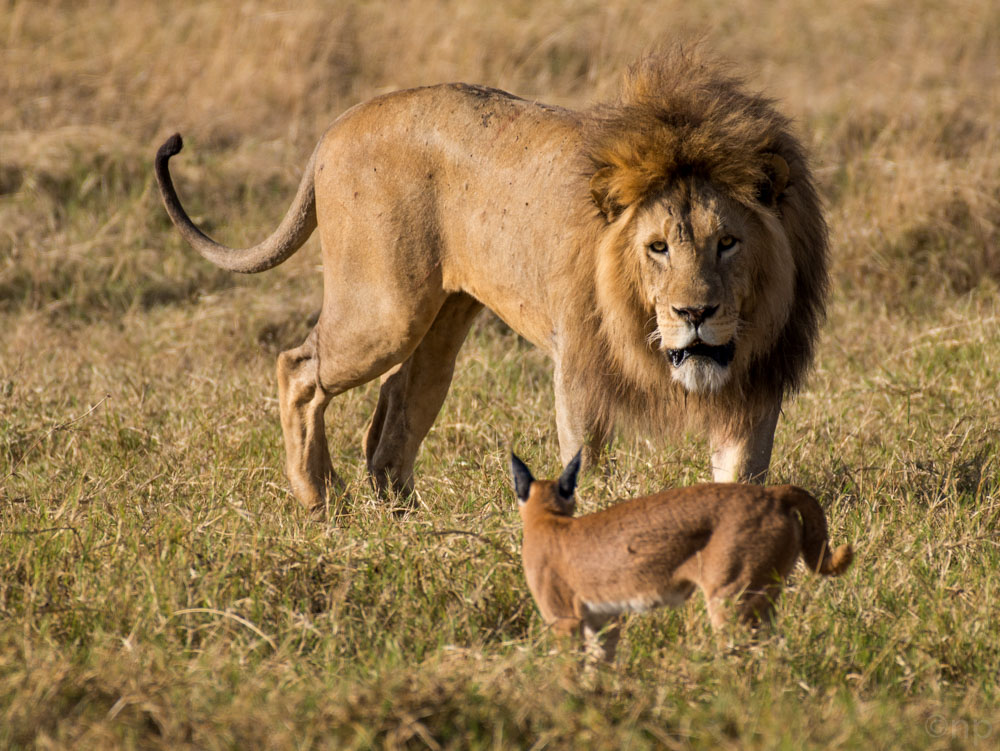 And as quickly as the incident had began at 7:08am the male looked across to another lion and decided that this game of cat and mouse was no longer worth it!
The caracal family had survived! Here mom reconnects with what one would expect to be a traumatized youngster. Instead they both looked around for the other kitten – we knew where it was and left the scene knowing that this family had escaped a close call – we left them in peace!
Meanwhile the local cranes once again stirred up, announcing their displeasure at the caracals presence – no doubt, just like the gazelles, also upset with the way things ended!
Thinking in depth about this sighting there are many unanswered questions:
Why did the lion decide to spare the kittens life?  Was the male lion more interested in the lions nearby? Why did he waste his energy chasing the female around instead of just killing the cubs? If it is down to competition why have lions been recorded killing species like Serval or Aardwolf then? Or am I over thinking it and did the female do enough to save her kittens, knowing that the male would eventually give up? Possibly!
Either way. this was an incredible spectacle of nature, the challenges that these animals face on a daily basis are beyond what one can imagine – in fact we only witness so little of what actually happens out there and every time we do, we learn about the fascinating behaviour of these creatures. Just like humans though, we can't make a blanket rule about how species must behave. We always like to have the answers to why something is the way it is but sometimes we must realize that we will never know all the answers.
I do suspect that there is a lot more going on with wildlife than we mostly give credit for – perhaps the predators of the Ngorongoro Crater interact differently to others in other areas and perhaps there is more tolerance from a big male lion towards a caracal that he has possibly run into a number of times in this small piece of paradise they both call home!